With its captivating hues and rare beauty, natural tanzanite has long been cherished as a gemstone of elegance and sophistication. In the ever-evolving landscape of style, at Top Tanzanite, our new collection stands as a testament to how we adapt to the changing tides of time. We are thrilled to unveil our latest collection of tanzanite jewelry that encapsulates the essence of luxury and exclusivity. 
Read on to explore and be the first to own some of our collection's most stunning tanzanite jewelry pieces:
Elegance takes center stage with this tanzanite ring from our new collection; a masterpiece that marries timeless design with the allure of tanzanite's vibrant colors. The addition of diamonds along the band elevates the ring to a new level of brilliance, creating a harmonious contrast that captures the attention from every angle. The intricacy can speak volumes about your refined taste.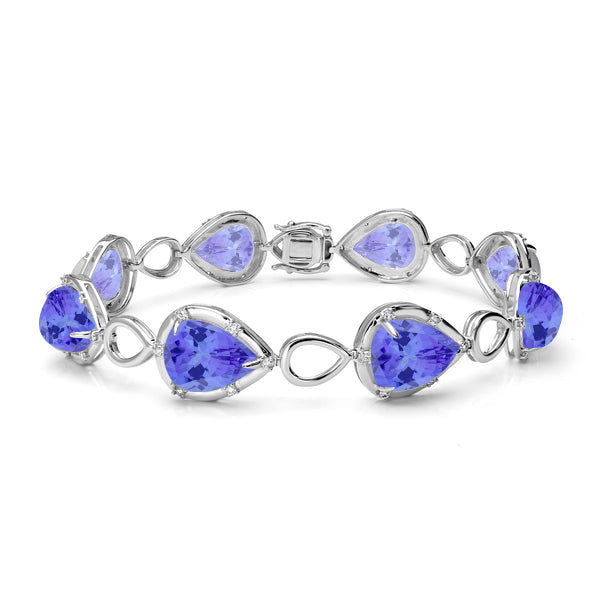 Imagine wrapping your wrist in the exquisite beauty of tanzanite – a dream that becomes reality with this bracelet. The gracefully arranged pear-cut gemstones, each carefully selected for their impeccable color and clarity, create a mesmerizing cascade of brilliance. Accentuated by diamond accents, this bracelet is a work of art that complements any ensemble. 
These tanzanite stud earrings from our new collection are a definite must-have. A dazzling testament to the magic of the gemstone. Crafted in 14K white gold, these white gold tanzanite earrings feature an exquisite pairing of tanzanite and diamonds. The trillion-cut tanzanite adds a touch of radiance, transforming these earrings into true showstoppers. Whether worn for a special occasion or to add a touch of glamor to your daily attire, these earrings are a celebration of opulence and beauty.
Symbolizing love and emotion, this tanzanite heart necklace from our new collection is symbolic of true beauty. This exquisite piece is more than just a pendant; it's a representation of emotions. The heart-shaped tanzanite gemstone radiates a unique blue-purple hue in a prong setting. Whether you're looking to treat yourself or express your affection to a loved one, it will constantly remind you of precious moments and connections.
At Top Tanzanite, each piece in our new collection offers a blend of  timeless elegance and contemporary allure. From tanzanite engagement rings and tanzanite bracelets to tanzanite pendants, it has something for everyone. When you choose us, you're not just purchasing jewelry, but you get to experience our commitment to exceptional craftsmanship, a seamless shopping experience, and a lifetime of memories.
Shop with us and receive the perfect size, proportion, finish, and shape. What's more, you'll delight in the added convenience of complimentary shipping within the US*, along with a lifetime warranty that ensures your shopping journey is worry-free.
Visit our website or follow us on social media for the latest updates and exciting offers.